The latest market-shaking headlines have been heavily revolved around President Trump's decision to impose tariffs on various imports, starting with his announcement at the end of February to impose a 25% tariff on steel imports and a 10% tariff on aluminum imports.  Investors have since been nervous, especially of retaliatory tariffs which other countries may place on domestic exports and what impact they could have on corporate profitability.  In fact, China is already planning on adding tariffs on fruit, pipes, and pork products produced by US companies.  The uneasiness of investors is evident, with the Dow Jones Industrial Average plunging 724.42 points, or 2.9%, yesterday.  This all begs the question, will tariffs prove to be a crushing blow to the bull market?
Based on history, no.  When tariffs are mentioned, investors quickly point to the Smoot-Hawley tariffs of the 1930s as potentially causing the Great Depression.  Respected economists, including Milton Friedman and Douglas Irwin, however, have pointed out that while these tariffs certainly did not help the economy, actions by the Federal Reserve and tax policy were the main culprits for causing the Depression.
Further, if we look at the internal condition of the market today, it remains difficult to find signs of a prolonged, major decline in stocks.  As one example, the Conference Board released their Leading Economic Index on March 22nd, which takes into account 10 measures of economic health, including new unemployment claims, the volume of new orders companies are receiving, and new building permits.  Eight of these 10 measures increased and the overall index rose for the fifth month in a row to a new bull market high.  See below for the chart of the Leading Economic Index along with the Coincident Economic Index, which is used to confirm strength or weakness in the Leading Economic Index.  As you can see, both are rising, suggesting the economy is still on stable footing.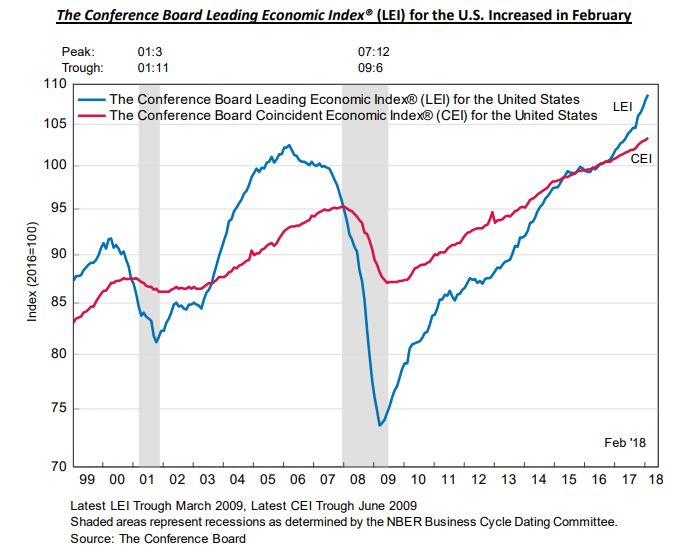 While this will be covered in detail in a future correspondence, our proprietary measures of the economic health of the US and of the stock market also suggest an optimistic outlook.  With this in mind, the likelihood that recent short-term market gyrations caused by tariffs will prove to be just that –  short-term gyrations – and of only minor significance to the longer-term prospects of the stock market.